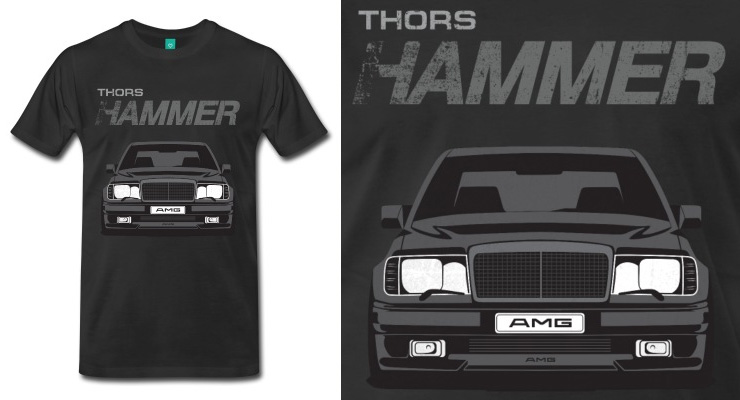 Featured Product – W124 Mercedes AMG – Thors Hammer t-Shirt | Limited Time / $22.95– Color Choices

W124 Mercedes AMG – Thors Hammer Hoodie | Limited Time / $35.95– Color Choices

This shirt and hoodie is a tribute to one of the best cars ever made the Mercedes w124 AMG Hammer and to the w124 in general.
"W124 is the Mercedes-Benz internal chassis-designation for the 1984 to 1995/96 version of the Mercedes-Benz E-Class. The W124 models replaced the W123 models after 1984 and were succeeded by the W210 E-Class after 1995. In North America, the W124 was sold for the 1985 through to 1996 model years.
The W124 is a mid-sized vehicle platform. Due to the high cost of German engineering and build quality, the W124 was designed to last many miles, with awards actually given and worn by high mileage versions.
Much of the 124's engineering and many of its features were advanced automotive technology at its introduction, incorporating innovations that have been adopted throughout the industry. It had one of the lowest coefficient of drag (Cd) of any vehicle of the time (0.28 for the 200/200D model for the European market with 185/65 R15 tires) due to its aerodynamic body, that included plastic molding for the undercarriage to streamline airflow beneath the car, reducing fuel consumption and wind noise"